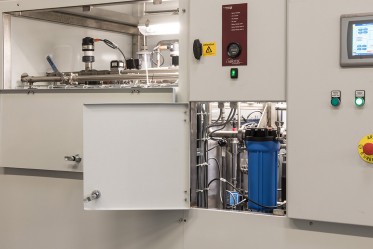 AZI CONCEPT Reverse Osmosis systems provide High purified water (Low conductivity) from tap water and low brackish water. AZI CONCEPT units are ready-to-use, skid mounted, easy to operate.
The systems run with 02 membranes producing from 500 to 2000 L/h[1]. The HPW 7500A is a fully automated unit specially developed to prepare and distribute the cleanest water possible for Medical, Desalination, Industrial applications and end users who need high quality of water with a minimum of operator intervention. A standalone and compact unit with its own pre-treatment line, purified by reverses osmosis and storage ALL IN ONE process unit. The operation of the system can be set according to user's needs, a three-lights lamp, gives clear information of the operational status of the unit. If more detailed information is required, this can easily be accessed from the operator's HMI panel on the machine
Compact design, low energy demand and high recovery;
Fully automated system, PLC controlled, HMI, Automatic preventive disinfection sequence
bile unit, Transportable, Ready to use, Easy to operate
Download our technical sheet to find out more.
[1] Other flows / capacities available & on demand